Going on a trip? - Carry one of these with you! Keep your log data and programs backed up.
Prices are now less than $1.00 per GB.
---
Live Radar and Lightning (animated)
if there is red on this map, don't expect me to be on the air!
---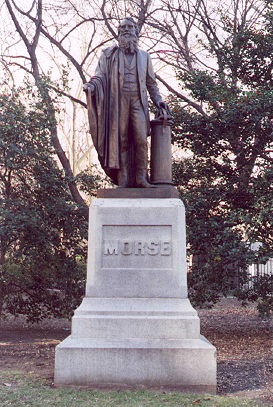 Samuel Morse special callsigns:
M0RSE
EM0RSE
GM0RSE


---
To the "Media"
- if you are going to put morse in your content (Discovery Channel, CIA ads, etc.), then please don't include nonsense which is also badly sent. Please take a couple of minutes and use WinMorse to make your audio feed.

Thank you

.
Here's a good BBC video.
Some little known wire signals



1- Wait a moment

25- Busy on another wire

2- Important business

26- Put on ground wire

3- What time is it?

27- Priority, very important
4- Where shall I go ahead?

28- Do you get my writing?
5- Have you business for me?
29- Private, deliver in sealed envelope.
6- I am ready
30- No more -end
7- Are you ready?
31- Form 31 train order
8- Close your key; circuit is busy

32- I understand that I am to .........
9- Close your key for priority business (wire chief, dspr, etc.)

33- Car report (Also, answer is paid for)
10- Keep this circuit closed

34- Message for all officers
12- Do you understand?

35- You may use my signal to ans this

13- I understand

37- Diversion (Also, inform all interested)

14- What is the weather?

39- Important, with priority on through wire.
(Also, sleep-car report)

15- For you and other to copy

44- Answer promptly by wire

17- Lightning here

73- Best regards

18- What is the trouble?

88- Love and kisses

19- Form 19 train order
91- Supt's signal

21- Stop for meal

92- Deliver promptly

22- Wire test

93- Vice President & general manager signals

23- All copy

95- President's signal

24- Repeat this back

134- Who is at the key?

If you need to waterproof a connector or anything else use Elmers Caulk CLEAR in this